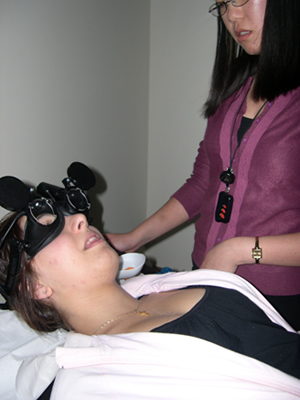 There are 2 main tests of the inner ear balance mechanism:

VEMP ('vestibular evoked myogenic potentials')
This is a test of the 'saccule' of the inner ear, which is one of the gravity sensing organs. Our audiologist will place stick-on recording dots on your neck, and you will wear headphones. She will then ask you to lift your head off the pillow and hold it up for 30 seconds. While you are holding your head up, she will play a 'clicking' sound in each ear. While you hear the clicking noise, your neck muscle activity is being measured, giving us a measure of saccule function in each ear.

Caloric test
This has been the main test of inner ear balance function since 1945. It measures lateral semicircular canal function . You wear a pair of goggles which contain an infra red camera, which can accurately measure your eye movements . The audiologist will then squirt warm or cool water into each ear for 30 seconds. You will feel & hear the water, and you will also feel a mild spinning sensation for2 minutes. We measure the speed of your eye movements (called 'nystagmus'), which tells us how well your lateral semicircular canals are working.